Hardware and software requirement
Since Project Server 2019 is now a service application in SharePoint Server 2019, the hardware, software, and browser requirements for Project Server 2019 will be the ones specified for SharePoint Server 2019. Some notable requirements for this version are:
Supported Server Operating Systems :
Windows Server 2016 Standard or Datacenter
Windows Server 2019 Standard or Datacenter
Supported Database Server :
Microsoft SQL Server 2016 Service Pack 1 (SP1)
Microsoft SQL Server 2017 RTM
SQL Analysis Services must also be installed if you are using the Cube Building Service in Project Server 2019 .
Supported browser s:
Microsoft Edge
Microsoft Internet Explorer 11
Google Chrome (latest released version)
Mozilla Firefox (latest released version plus immediate previous version)
Apple Safari (latest released version)
It is difficult to choose the right project management solution.  Of course, first you need to evaluate if your organization is ready for a PPM tool. [In our previous blog post; "Are Your Ready fo a PPM Tool?"  we discussed important points to consider before buying a tool.]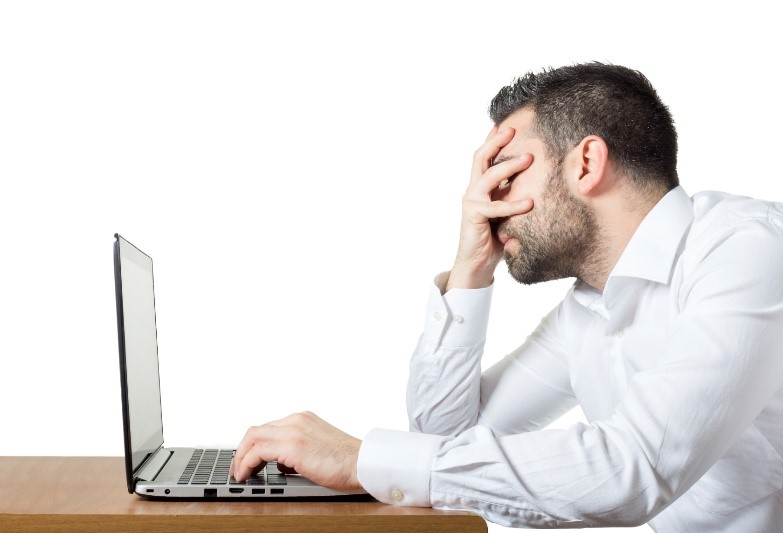 Then, you need to select a tool that meets your specific project management needs, and can match your existing project portfolio management processes.  But that is just the beginning of the journey.  Once you have selected a tool for your organization, deploying it and user adoption can be even harder.
User adoption is the mental acceptance and the widespread, rapid end user engagement with new technology as part of their daily work that delivers business value in the required time frame.
People generally resist to change.  If the end users in your organization have been managing projects with a different tool (Like Excel) for a long time, even if it is not the most efficient way, they will probably be willing to continue using the same tool/method.
User adoption can take place by a few methods but predominantly address by the 'big bang' or the 'phased adoption.' We generally recommend phased approach. Regardless of your method of rolling out to the end users, you should have a solid user adoption plan.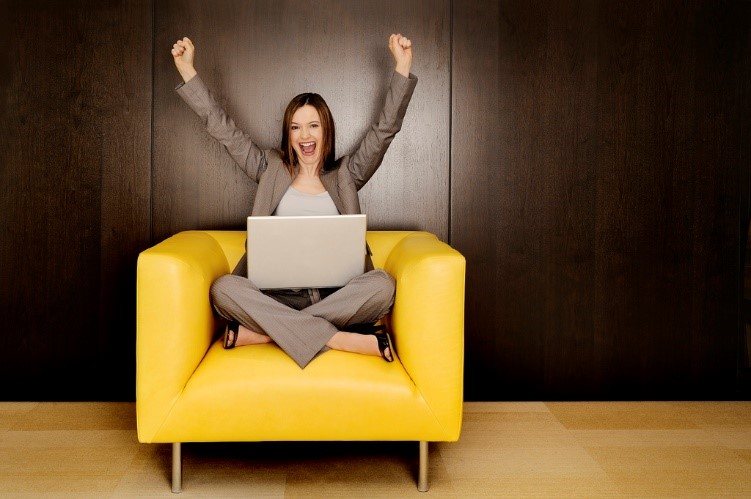 When you are deploying a project management solution, or any business system, in your organization, it is important that those who are using the tool not only use it , but like it.
But how do you get end users like the new tool and not think that it's just some one more bit of admin they should have to do in their day?
Here is the list of quick tips on how to get users to use and like your new project management solution:
Make sure you get the top management support. Ensure that users are aware of this support. Top management should demonstrate their support (if a management doesn't support it, the team won't either)
Make sure that the tool is easy to use and understand. From creating a project to project planning and managing tasks, the tool must make the job easier, surface the right information at the right time, for each user role.  Otherwise people will quickly revert to the old way doing things.
Involve end users in your action planning (if the team feels like they aren't heard, they will rebel)
Have a champion in place who can lead by example and teach others about the tool.  Having this person to lead the implementation, the person who really cares about seeing it succeed, can make your life easier in getting users to use and like the system.
Provide role based training and coaching so that people can get used to the solution. if end users don't know how to use the tool, they will not use it.  The users should know exactly where they can go to find it, and who can give them support if needed. It's a good practice to organize Q&A sessions and meetings where users can share their experiences. Make sure that each users' questions are answered and issues are solved. We recommend you have a support portal that users can submit their questions/issues. Build a knowledgebase system.
Improve PPM discipline maturity and get feedback on the tool.  We suggest you take an iterative approach, where you deploy an amount of project portfolio management, usually on the lighter side, that people can start using and quickly see success.  Then as you improve the ppm maturity level of the organization and get feedback from users, you can tailor the tool to their specific needs in future iterations of the tool.
Don't forget that the road to full PPM is a journey while taking small steps to get our final goal.
We are specialized on Microsoft Project Portfolio Management (PPM) platform and we  are building user friendly Project and Portfolio Management solutions.
Do not hesitate to contact us for more information.
Şener KARA
The easiest way to create a project with Project Online is to click on the 'New' option under the Project tab on the Project Online homepage. Once you click on the New option, we can select the project type to create the projects.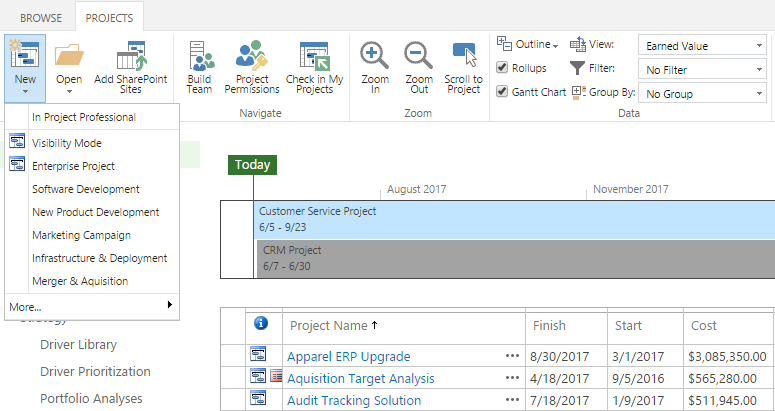 An Enterprise Project is a type of project that includes enterprise project type phases, workflows, and project detail pages.
For example; Enterprise Project type is a type of project that is compatible with separate departments, such as sales-marketing projects, IT projects, or HR projects.
When we click on the Enterprise Project, we get a page like below, and we can create it by filling in these fields and clicking on the 'Finish' option.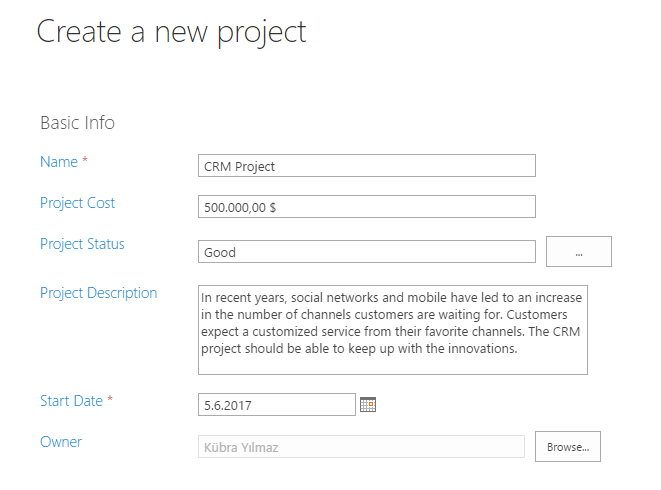 After our project is created, we can display all the information about our project on the project detail page, we can make changes on some fields.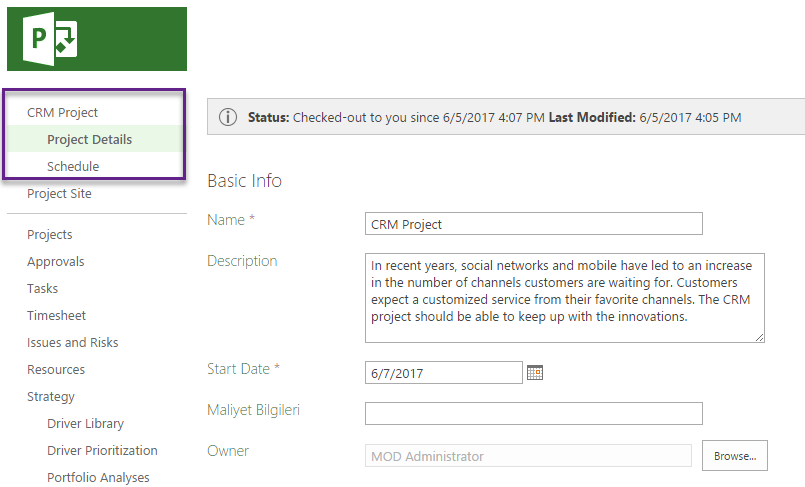 On the Schedule page, creating a project plan, setting up a team, assigning a task to the person concerned are can be done.

To create a new resource with Project Online, we enter the 'Resource Center' section from the menu. The resources are divided into 3 parts, which are the work, materials or costs required to complete the project. We can start the source creation process by clicking 'New' under Project tab.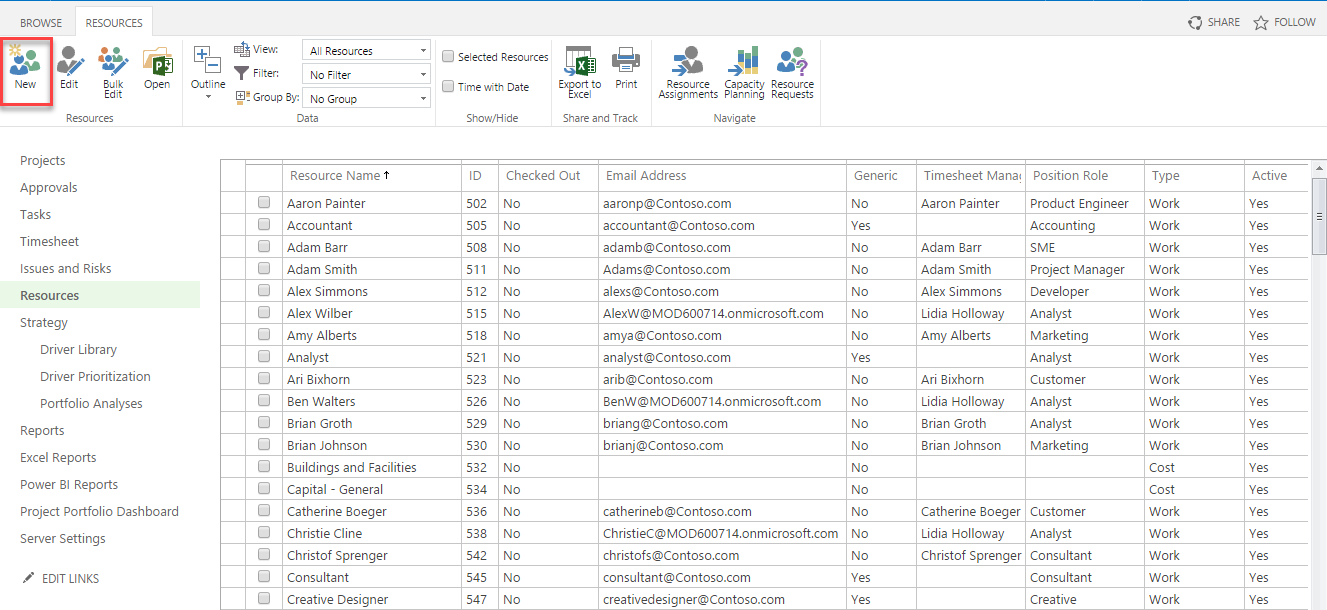 When we enter the resource creation page, we first choose a type for the resource to be created. These resource types include;
Study: Those who complete the tasks in our projects.
Materials: These are the tools we need to complete our projects. These may include things like a car, a computer, or a conference room.
Cost: The fees related to our projects. These can be things like lodging or airline tickets.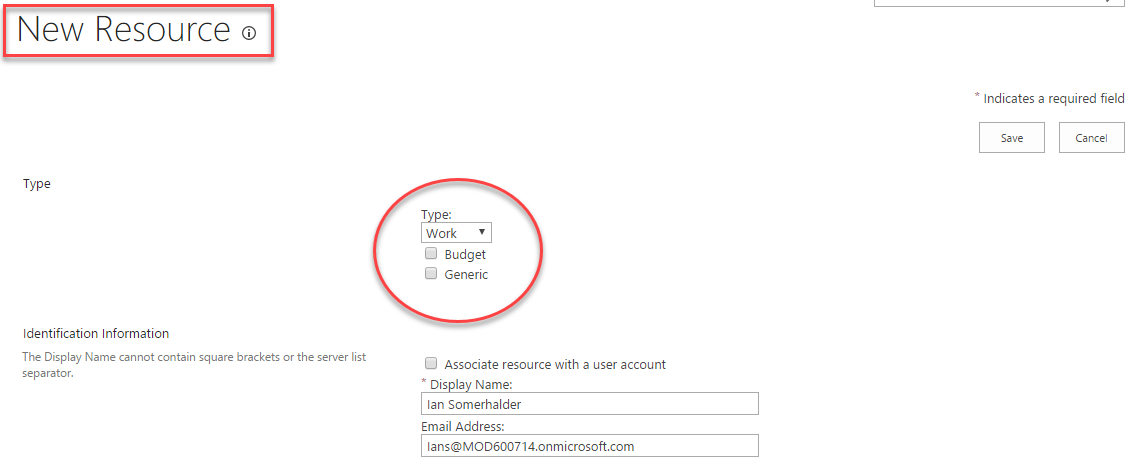 Then we fill in the other fields related to our source and record them.
After registering the source, we created, we can see the newly added source in the 'Resource Center' page.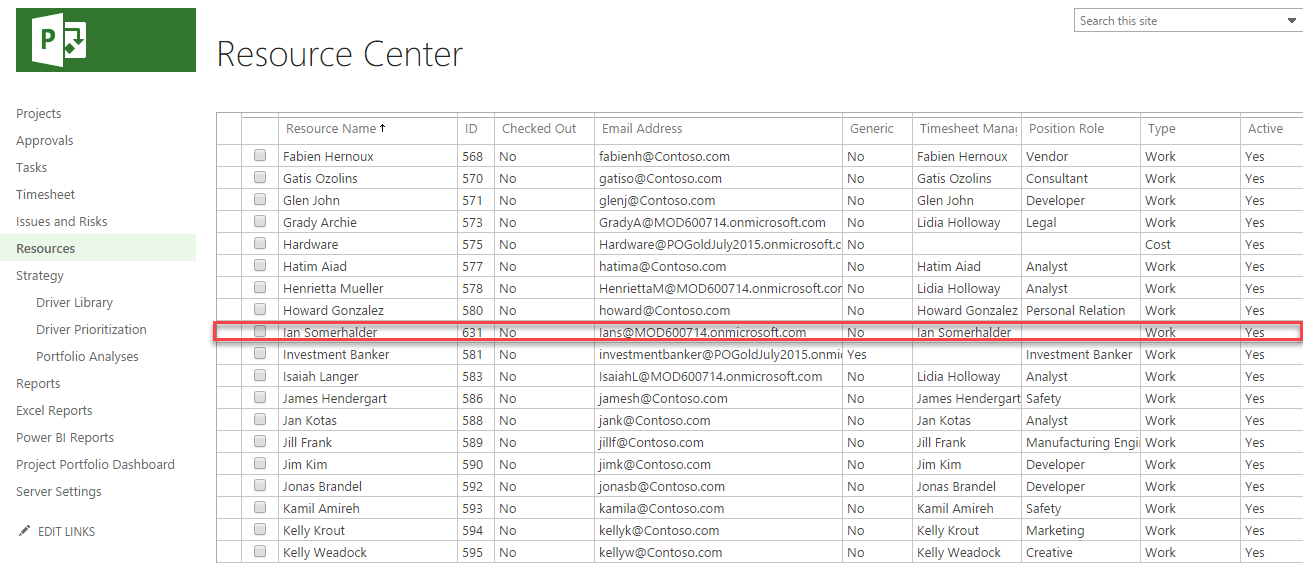 In the past, Project Online only allowed for 5,000 projects. Today, that increases six-fold, enabling us to create and manage up to 30,000 projects in the cloud.
Microsoft Project group announce several updates that improve performance and help us get the project information we need faster. One of these updates is the ability to create more project sites—also called subsites or collaboration sites. Before, there was a limit of 2,000 project sites. If we wanted more, we had to split them into multiple Project Web App (PWA) sites, impacting team productivity. Now, there's a one-to-one relationship between projects and project sites. For example, if our Operations department creates 4,000 projects, it can also create 4,000 project sites across multiple site collections, boosting collaboration and information-sharing among project teams. Additionally, we can set the destination of these project sites in the Enterprise Project Type (EPT) template to help streamline project creation.

Divide projects and project sites among different departments, as shown here, or host all 30,000 in a single place—whatever works best for your business.
Access the Project Center data faster
More projects also means more data. Every time you go to the Project Center, Project Online calculates aggregate information—like total cost of all projects—which slows the time it takes to pull up that page. Going forward, you have the option to disable rollup groups and Gantt charts, bringing you the project data you need faster—especially as you create more and more projects. Microsoft also expedited the process for displaying a list of projects within Project Center and improved the custom filtering feature to help you quickly find the right project data.

Filter data rollup and Gantt chart groups to find Project Center information faster.
Microsoft also released OData performance enhancements to decrease the transmission time for retrieving data from project reports. This is particularly helpful if you use SQL Server Integration Services to transfer data from Project Online into your own warehouse. You can download all your data at once, then pull the changed records at regular intervals to keep project data updated.
Lastly, Microsoft added modify dates to the following entities:
AssignmentBaseline
AssignmentBaselineTimephasedData
AssignmentTimephasedData
Engagement
EngagementsTimephasedData
ProjectBaseline
TaskBaseline
TaskBaselineTimephasedData
TaskTimephasedData
TimesheetLineActualData
ResourceDemandTimephasedData
ResourceTimephasedData
You can access to original text and frequently asked questions from the Microsoft web page with the help of the following URL below.
https://blogs.office.com/2017/04/03/create-and-manage-up-to-30000-projects-in-project-online/
The planning processes of enterprise-scale firms can be challenging the size of the work done. Work, time and cost management; Based on the size of the project it is difficult to track the progress and administrative difficulties are encountered. For example; Questions such as "Is there someone who does not work today, what is my resource availability, will these tasks be completed on time, or what will be the time-cost ratio?" were required to be answered by each project manager to manage the project.
The fact that such factors as database and time management play a crucial role in managing project successfully. There is a need to a database that knows the time!
Microsoft Project has maintained its most preferred program status for many years. Reporting options and customizable areas according to the structure of the corporations, has enabled users to integrate business structures in project management. With the innovations coming in 2016 versions, it became more active and more manageable.
Microsoft Office 365 PPM can help increase visibility into project performance and improve project management performance.
The costs and benefits for a composite organization of 5,000 employees, based on customer interviews, are: 
•       Investment costs: $1,710,810.
•       Annual costs: $174,890.
•       Total cost savings and benefits: $8,359,959.
Microsoft commissioned Forrester Consulting to conduct a Total Economic Impact™ (TEI) study and examine the potential return on investment (ROI) enterprises may realize by deploying Office 365 Project and Portfolio Management. The purpose of this study is to provide readers with a framework to evaluate the potential financial impact of Office 365 PPM on their organizations.
To better understand the benefits, costs, and risks associated with an Office 365 PPM implementation, Forrester interviewed four customers with multiple years of experience using Office 365 PPM. Microsoft Office 365 PPM is a cloud-based software-as-a-service (SaaS) offering that helps organizations improve resource management, increase project management performance, and improve visibility into projects, programs, and portfolios. As a cloud-based solution, Office 365 PPM also reduces infrastructure costs and removes the need for costly software upgrades. Additionally, Office 365 PPM easily scales with business growth while providing synergies with Office 365 products and integration with SharePoint and Power BI.
Prior to Office 365 PPM, customers had implemented an outdated on-premises project management solution that was poorly utilized by project managers (PMs). In many instances, Microsoft Excel was the tool of choice for PMs to track project progress and performance. This impeded visibility into projects for leadership, finance, and project management offices (PMOs), hindering the ability to strategically manage project portfolios. With Office 365 PPM, customers were able to build more consistent project management practices that provided greater visibility into project management performance. This provided leadership with the ability to make better strategic decisions in the project portfolio. Said one enterprise PMO leader when speaking about Microsoft Office 365 PPM: "The visibility to the projects was huge . . . especially when you can deploy it at an enterprise level and for the first time as an organization get visibility to your entire project portfolio, and then making the selection, prioritization, and sequencing decisions."
You can reach the research details from the link below:
http://query.prod.cms.rt.microsoft.com/cms/api/am/binary/RCaEMX
2016 Overview
What a year passed quickly. When we look back, we see that we have left behind a busy working year.
Events we participated in 2016.
PM Summit Ankara 2016
We were among the sponsors of the Project Management Summit held in Cer Modern on May 12, 2016 in Ankara. Our founder manager, Sener Kara, informed the participants with a joint presentation with the MEB officials.
We were pleased to have the opportunity to review the future developments in PM Summit and also the public and private sector perspectives.
Agile Turkey Summit
We attended the Agile Turkey Summit conference in Wyndham Grand Levent in Istanbul on October 6, 2016. We were delighted to share information with the participants at Agile Turkey Summit, that has the main theme "End to End Agile Mind Shift".
In the upcoming period, we will continue to support activities to promote and disseminate Project Management.
PM Summit İstanbul 2016
14 – 15 October – We were among the sponsors of the Project Management Summit held in Istanbul Süleyman Demirel Cultural Center, Istanbul. We were pleased to have contributed to the summit where the experiences were shared during the digital transformation process.
Erdinç Aslan (Türk Telekom) shares his experiences, about managing the digital transformation by the presentation he made with Yeliz Turunç, (Microsoft SSP MEA) with the participants, as a result of the Corporate Project Management Implementation that we carried out with Türk Telekom.
European SharePoint Conference 2016 (Vienna) 2016
The SharePoint Conference, held every year in certain cities of Europe, was held in Vienna on November 11-14. We were able to get to know about the innovations and improvements by joining the event weighted content with SharePoint 2016 and Office 365 in this area.
So you want to buy a PPM (Project Portfolio Management) tool?
But are you ready?
PPM and EPM tools can provide significant benefits, but without checking that the prerequisites for successful realization of these benefits are in place, your implementation might not produce desired outcomes.
In modern world of amazing technology, most people think that "if there is a tool, it can solve our problem". Sometimes a similar mindset prevails when a company decides to implement PPM system to manage their portfolio of projects.
There's no doubt that plugging in a smart tool is easier than addressing vast process and culture issues.
So for some, the first step toward PPM is to buy and install "the best PPM tool available." Then they realize that they don't have processes in place. They meet resistance to changing processes to suit the tool's needs. Most of the time they fail and put all the blame on PPM tool.

Sound PPM projects begin with a clear-eyed assessment of the organization's PPM maturity level and its appetite and ability to advance. If it's at level 1 now, realistically how feasible is level 4 or 5, and how rapidly can the company achieve it? It may be time to begin embracing PPM best practices, but reaching the desired level can take many months. PPM maturity is a journey, not an event.
The choice of tool is secondary to these considerations. The best tool is the one that most fully serves the very particular needs of the company, regardless of the judgment of the technology marketplace.

Below are listed some dynamics that will need to be considered when approaching an Project Portfolio Management(PPM) implementation.
Implement PM processes and practices in your organization. If you don't have a documented methodology and practice, introducing a tool cannot make any difference.
Secure executive sponsorship and resources. If you have been trying to sell these to stakeholder groups on the benefits of introducing a tool, you need to make sure they have sufficiently bought in.
Allocate human and financial resources to support the tool past the initial roll out.  Regardless of whether a PPM solution is installed on-site or on cloud (subscribed to over the Internet), you still need to have internal or external staffing to provide application support to your end users, to identify and address coaching or compliance issues, and to receive feedback from end users and incorporate that feedback into ongoing improvements to your procedures & the configuration of the tool.  Beyond this, depending on your organization's needs and the capabilities of your selected tool you may require software development for creating interfaces with your existing business systems and report authors to create custom reports from the tool's centralized repository.
Sell the PPM solution to the primary end users as well. As they are expected to enter and maintain project data in order to populate dashboards and reports. Try not to increase the administrative work load for team members. if there are existing procedures and processes that are already effective, you can leverage existing habits, practices, and procedures in order to help users' adoption.

Train your users based on their roles. Check if you have sufficient personnel with sufficient experience to accomplish the goals that have been set. Remember that different people will have a different roles in the eventual project portfolio management process.  Your users will use PPM more efficiently when they have an understanding of the lingo of project management. But it makes no sense to train every employee to be a project scheduler if, in fact, they'll never be responsible to create schedules.  By default, you can think of four roles: Administrator, Project Manager, Team Member, and Executive. Of course, depending on organizational structure the roles may be quite different.
Consider the road to full PPM a journey while taking small steps to get to your goal. Management can't push the user base to achieve goals faster than their skills will allow them to progress.
With today's difficult economy and global competition, companies can hardly survive the failure of a third of their projects. Embracing PPM can set them on a path to a successful, mature PPM discipline which will help them achieve business goals.
Şener KARA